Bundle and save! Get the Deltapath UC platform free with the purchase of a Dolby Conference Phone
Why make the switch to a Dolby Conference Phone with Dolby Voice?
The Dolby Conference Phone eliminates many of your communication pain points to bring you the best audio quality and the most immersive communication and collaboration experience ever.

Noise Cancelation
| | |
| --- | --- |
| Before | After |
| With the proliferation of mobile devices, more people are taking calls outside the office only to have their calls hijacked by background noise. | With Dolby Voice, background noises are eliminated in your conference rooms. You can also take Dolby Voice outdoors with Deltapath Mobile. Deltapath's mobile application comes fully integrated with Dolby Voice. |

Voice Overlap
| | |
| --- | --- |
| Before | After |
| Everyone has experienced voice overlap. It's when you're on a call and different people speak at once resulting in muffled voices and confusion over who said what. | Dolby Voice eliminates voice overlap so everyone hears each person on the call from a distinct virtual location so it's easy to identify who's speaking and follow the conversation. |

Voice Level
| | |
| --- | --- |
| Before | After |
| Conference call participants with quiet voices often go unheard because people speak over them. Time and again, quiet speakers must either move closer to the conference room device to be heard or have others repeat what they just said. | Dolby Voice equals the playing field. Everyone who speaks is heard as a result of full room pickup – not just the loudest few. Conversation flows naturally. |

Audio Quality
| | |
| --- | --- |
| Before | After |
| High Definition (HD) Voice was a great technology when it first came out over a decade ago. It brought everyone clearer, more natural sounding audio. However, HD Voice does not solve other communication challenges like background noise, full room voice pickup, or voice separation. | Dolby delivers an experience you can trust. Get stunning audio quality with the Dolby Conference Phone with Dolby Voice. |
Hear the difference for yourself
Package includes: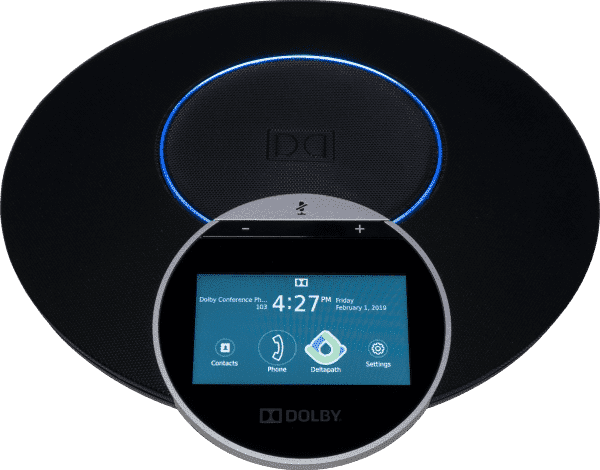 Dolby Conference Phone
Deltapath UC Platform Virtual Edition Base License includes

Deltapath UC User License*
Dolby Voice Conference Room License*
Dolby Voice module
*Number of licenses is equal to the number of Dolby Conference Phones purchased
Start the conversation today to see how to get your Deltapath UC Platform with your Dolby Conference Phone. Share some information and we'll be in touch.
[caldera_form id="CF5fffc0f61b1fa"]