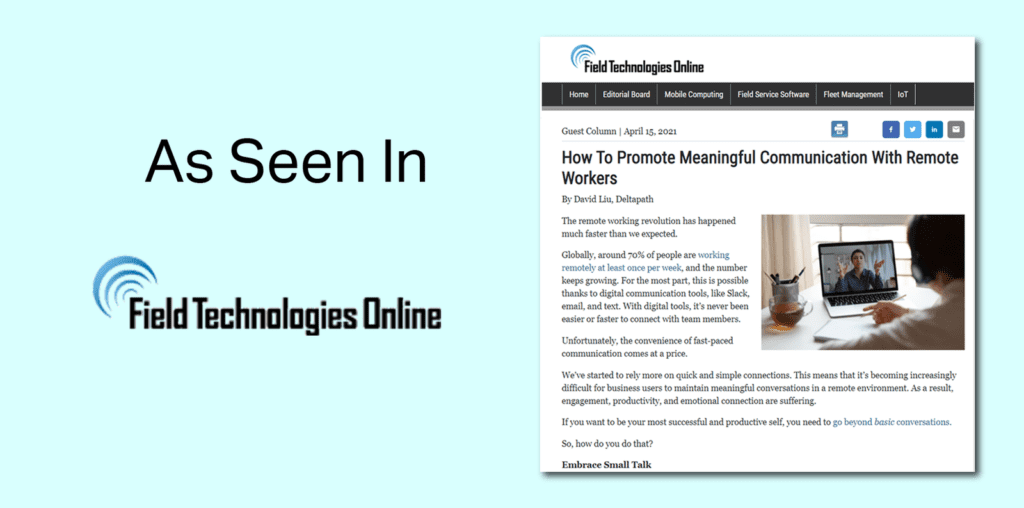 The remote working revolution has happened much faster than we expected.
Globally, around 70% of people are working remotely at least once per week, and the number keeps growing. For the most part, this is possible thanks to digital communication tools, like Slack, email, and text. With digital tools, it's never been easier or faster to connect with team members.
Unfortunately, the convenience of fast-paced communication comes at a price.
We've started to rely more on quick and simple connections. This means that it's becoming increasingly difficult for business users to maintain meaningful conversations in a remote environment. As a result, engagement, productivity, and emotional connection are suffering.
If you want to be your most successful and productive self, you need to go beyond basic conversations.
So, how do you do that?
Embrace Small Talk
As with anything else, if you want to get better at fostering meaningful conversations in the workplace, it's important to start small. Small talk has a bad reputation for being unproductive or pointless, but that's not the case.
According to a 2010 study, smaller conversations and interactions boost the executive functions of the brain. Small talk helps to enhance time management, and it makes you happier too! A 2013 study found that people who engaged in small talk had a more positive mood than those who skipped conversation.
The good news? There are plenty of tools that businesses can use to support small talk today. For instance, you could set up an instant messaging service for your team or use push-to-talk services for people who can't afford to sit down and type on their phones.
Encourage Active Listening
When most of us have a conversation, it's common to focus heavily on what we're going to say. However, if you want to have better conversations at work, and make sure that your people are engaged, you need to learn how to listen properly.
There are many ways to improve the way that you listen to colleagues and coworkers. For instance, making notes about what other people say in a meeting forces you to pay attention to their key points. You can even invest in better tools that make listening easier, like noise-cancellation gateways that banish potential distractions from the airwaves.
If you're having a hard time staying focused, then machine-learning tools that capture snippets of conversations and transcribe them into a searchable format could come in handy.
Host Regular Video Meetings
In an age of remote working where people are spending more time apart, it's important to maintain a more human face-to-face connection. Remember that only a portion of the meaning in our communication experience comes from the words that we say. The rest is attributed to things like tone of voice, facial expression, and body language.
Live video meetings are one of the best ways to mimic the nuances of face-to-face conversation in a digital world. Now that we have access to things like cloud data and WebRTC, it's easier than ever to engage in video conferences. Most of the time, all your business users need to do is click on a link or press a button to join a meeting.
Put a face-to-face meeting into your schedule on at least a weekly basis, so you can check in on how your people are doing and make them feel more emotionally connected to their team.
Use Data To Improve Conversations
Many businesses already know how valuable data can be when it comes to improving their customer conversations. Collecting information from CRM systems and contact centers helps you to better understand the client journey. Unfortunately, there aren't as many business leaders out there using data to optimize internal conversations.
Tracking how your team members use communication tools like video conferencing services, instant messaging, and even internal call minutes can help you to see what works best for them. At the same time, don't be afraid to reach out to your team members and ask them what might make it easier for them to feel connected at work.
You might find that your employees want more weekly updates from their team leaders, or a chance to have more one-on-one conversations about project expectations. When you're working with a remote team, paying attention to what they need is crucial.
Make Communication Simple
Finally, make sure that any of the tools you implement for communication and collaboration in the workforce are as simple and accessible as possible. If your users don't feel comfortable using the conferencing services that you have in place, then they're not going to see the benefits of it.
Click-to-call functionality and simple applications that feel as quick and easy as possible are essential to the success of your communication strategy. If you're concerned that any of your remote workers aren't going to be comfortable with the applications that you're using, implement training sessions and webinars that will get them up to speed.
What's more, remember to encourage your users to keep their communication contextual. Just because communication is simple, doesn't mean that it should be basic. When giving assignments and discussing projects, make sure to check that your employees really have all the guidance they need.
Making Messages Meaningful
There are more methods of communication available in today's digital world than ever before. Unfortunately, that doesn't always mean that our conversations are as meaningful as they should be. Often, to stay agile, companies try to keep their discussions as brief as possible. However, this can sometimes lead to the context being missed out on communication experiences. To keep your employees connected and engaged, you need to ensure that they're speaking to each other in the best possible way.
How are you keeping your conversations meaningful today?
About The Author
David Liu is the founder and CEO of Deltapath. He drives the company's vision, strategy, and growth as it builds innovative technology to enable people to communicate and collaborate beyond boundaries. Under David's leadership, Deltapath has deployed its flagship products in more than 94 countries around the world. David also spearheads the technical strategy of the company and is dedicated to building a team of world-class engineers to keep Deltapath at the forefront of the industry.