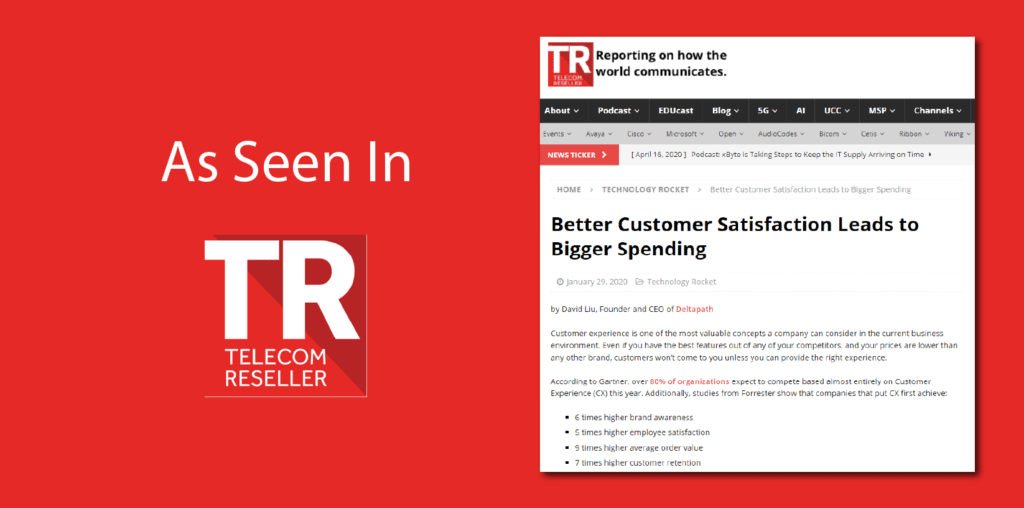 Customer experience is one of the most valuable concepts a company can consider in the current business environment. Even if you have the best features out of any of your competitors, and your prices are lower than any other brand, customers won't come to you unless you can provide the right experience.
According to Gartner, over 80% of organizations expect to compete based almost entirely on Customer Experience (CX) this year. Additionally, studies from Forrester show that companies that put CX first achieve:
6 times higher brand awareness
5 times higher employee satisfaction
9 times higher average order value
7 times higher customer retention
9 times higher return on spend
It only makes sense to ensure you're tracking your customer experience strategy properly. However, many companies still struggle when it comes to figuring out how to put their CX solution front-and-center.
CX and the Evolving Contact Center
According to Forbes, customers that derive the best experiences from their interactions with brands typically spend 140% more than their counterparts.
So, how do businesses make sure that they're delivering a revenue-driving CX solution?
For most organizations, the journey begins in the contact center. The contact center is the heartbeat of every interaction between a customer and a company. Recently, for instance, we had the pleasure of working with a leading low-cost airline carrier in Asia, Air Asia. We helped the company to improve its contact center operations with a focus on efficiency, and faster time to resolution for its customers.
Focused on CX as a driving goal, Air Asia wanted to set itself apart from the crowd by going above and beyond what customers typically expected from a budget airline. To help with this, we ensured that Air Asia had a best-in-class contextual contact center system that presented customer information to agents as soon as a call came in. The interface delivers details about each customer's profile so that the agent can offer a personalized greeting, followed by a discussion informed by that customer's previous experiences with the brand.
Changing the Customer Conversation
The Adobe Digital Trends report that organizations who class themselves as "advanced" in customer experience are 3 times more likely to exceed their business goals. To deliver this advanced experience, Air Asia needed a more meaningful way to manage the more than 2,000 calls they received each day.
With our help, Air Asia integrated its contact center with customer information and Salesforce CRM data, reducing the average call duration by at least 1 minute per call. That adds up to around 33 man-hours per day! Air Asia can now serve more customers, reducing customer waiting times, and keeping human resources to a minimum.
Having a state of the art CX solution is crucial to the bottom line in today's marketplace. When we engage in a CX strategy with our clients, we start by looking at their operations in accordance with the Forrester CX Index. This Index suggests that all businesses need to assess the quality of their customer interactions in terms of:
Emotion: How the customer feels about the brand
Ease: How simple it is for the customer to get the service they need
Effectiveness: The degree of value that the customer gets in the resolution
Taking this approach with Air Asia helped us to see that the company's initial issues were with managing their call volumes and accessing contextual information. Salesforce and CRM data made the contact solution more effective, improving the perception that customers had of the brand. Additionally, we ensured that the implementation of new contextual information was simple and straightforward for agents to use so that serving clients felt easy too.
Using CX to Improve the Bottom Line
Today, every company has its own goals and expectations when it comes to implementing the right CX strategy. The key to success is realizing that a comprehensive is necessary for better interactions.
Most organizations will be able to enhance their CX solution significantly, by focusing on the digitization of their traditional tools, and the adoption of services that allow them to personalize customer conversations.
In our experience with Air Asia, we found that adding Salesforce and customer data to the Contact center agent experience made it easier for agents to give clients the unique, personalized experience that they were looking for. At the same time, Air Asia had an easier time gathering data that can inform their decision-making processes in the future.