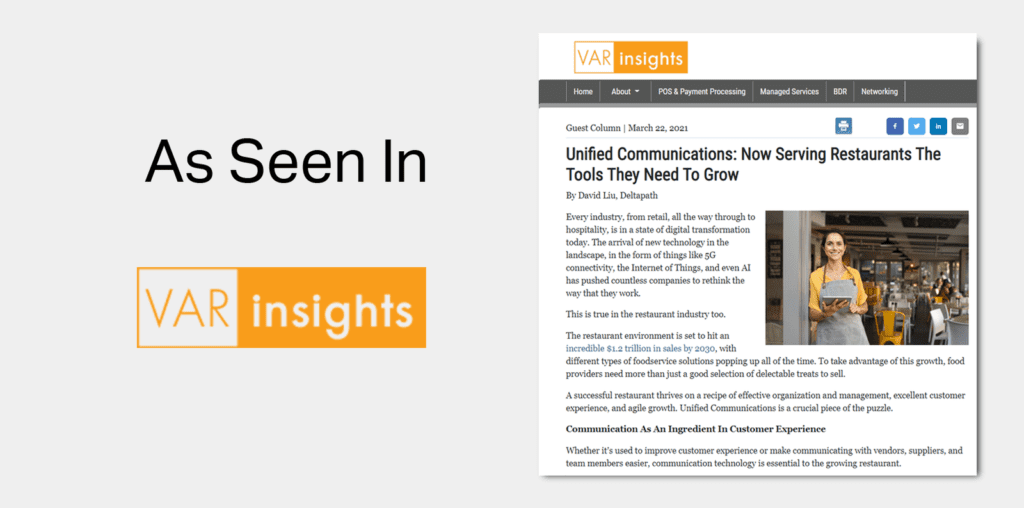 Every industry, from retail, all the way through to hospitality, is in a state of digital transformation today. The arrival of new technology in the landscape, in the form of things like 5G connectivity, the Internet of Things, and even AI has pushed countless companies to rethink the way that they work. This is true in the restaurant industry too.
The restaurant environment is set to hit an incredible $1.2 trillion in sales by 2030, with types of foodservice solutions popping up all of the time. To take advantage of this growth, food providers need more than just a good selection of delectable treats to sell.
A successful restaurant thrives on a recipe of effective organization and management, excellent customer experience, and agile growth. Unified Communications is a crucial piece of the puzzle.
Communication As An Ingredient In Customer Experience
Whether it's used to improve customer experience or make communicating with vendors, suppliers, and team members easier, communication technology is essential to the growing restaurant.
Today's fast-paced food companies need a flexible communications strategy in place if they're going to handle the ever-growing appetite for voice, online, and in-person orders from clients. Flexibility, reliability, and convenience are some of the reasons why the Unified Communications landscape will be worth $167.1 billion by 2025.
As the restaurant sector becomes more competitive, patrons are becoming increasingly selective about not just their food choices, but the overall experience they get from each vendor. Consumers expect the same highly personalized and omni-channel approach to service, whether they're dealing with a café, high-end restaurant, or fast-food chain.
This leads us to the first reason why unified communications is so essential to the restaurant environment. In a service-oriented business, delivering the kind of communications that your customers need is key. Only unified communications tools can provide restaurants with the systems that they need to communicate seamlessly with clients in a range of environments, from mobile, to website instant messaging.
The right unified communication software for your restaurant ensures that you can provide the same consistently palatable experience on everything from your text messages to clients, to your online booking system, and even your automated phone service.
Using Unified Communications To Streamline Operations
The modern restaurant communication stack is designed to maximize efficiency, improve reliable connections between clients and companies, and boost the success of call management strategies. Since every restaurant is unique, a unified communication solution supported by cloud services allows each business to customize its strategy.
With the right UC stack, you can build the perfect combination of inward and outward-facing communication opportunities for your business. You can even combine forward-thinking tools, like chatbots and instant messaging for customer service, with your existing legacy technology, using open integrations.
For instance, when CKE Restaurant Holdings began to plan its telecommunications update with Deltapath, the company knew that it needed a strategy that would give staff access to a more immersive, centralized, and simplified environment.
However, embracing an open communication strategy with Deltapath allowed CKE to access the freedom it needed. Through open APIs and mobility applications like Deltapath Mobile, CKE unlocked the power that they needed to deploy new features, like call center capabilities, unified messaging, and mobility without creating an overly complicated or expensive infrastructure.
The Freedom To Keep Updating The Comms Menu
Unified communications technology doesn't just give companies the power to update their communication strategies according to their current needs. Because UC is about connecting and centralizing all your communication infrastructure, the end game is that companies can enjoy more seamless ways to communicate with one and another from voice and video to instant messaging and real-time push to talk all from one centralized app and system.
With the right UC Stack, you can build the perfect combination of inward and outward-facing communication opportunities for your business. Deltapath's open API foundations mean that the communication platform can integrate well with everything from data aggregation tools to CRM technology. Deltapath even has its own dedicated CRM connector for Salesforce.com.
With the right provider, restaurants like CKE can update their communication menu with things like:
Mobile technology with alert notification: People on the restaurant floor won't always be able to pick up a desk phone. However, mobile integrations will allow them to get alerts and information sent straight to phones and tablets when on the move. Business leaders can share quick business-wide broadcast messages to keep entire teams running like a well-oiled machine.
Video collaboration: Video conferencing and screen sharing allows businesses to connect from multiple locations around the world. A monthly video conference in a restaurant could teach employees from other branches how to prepare new meals, without the need for any travel between kitchens.
Analytics and reporting: Just as CRM integrations can help businesses provide more personalized experiences to their customers, analytics and reporting in the restaurant industry can help brands to serve more meaningful moments to clients. With integrated data tracking and analytics features, businesses can quickly and easily improve restaurant and customer service, without having to rely exclusively on intuition.
The Appetite For Communication Solutions In Restaurants
As the foodservice industry grows, becoming more diverse and competitive than ever before, restaurants of all shapes and sizes will need to invest in the right communication plan to cultivate growth. The right restaurant unified communication strategy is the key to improving efficiency, customer service, and productivity in any environment.
Unified communications tools delivered over the cloud provide benefits that no other communication stack can offer. Whether you're looking for a reliable voice quality that something like Deltapath with Dolby Voice can deliver or you need a flexible environment that scales with your business, UC on the cloud is the perfect option.
Discover how you can make your communication stack more appealing with a little help from the cloud today.